Respect Phoneline is a team of friendly Advisors who will listen to you without judgment. Our team are available to offer you confidential and honest advice to help you stop being violent.
We are strongly committed to offering a high-quality service. The Respect Phoneline was accredited for the fifth time by the Helplines Partnership in June 2022.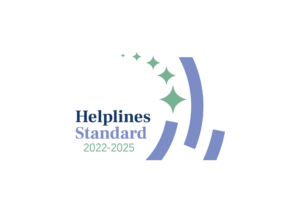 Frequently asked questions
Open the tabs below to find out more.
Respect Phoneline is a confidential helpline, email and webchat service for domestic abuse perpetrators and those supporting them.
We support men and women who are using abuse in same-sex or heterosexual relationships, from anywhere in the UK.
Respect Phoneline is for anyone who's concerned about their use of violence and abuse towards their partner, and for those supporting them: friends or family members and Frontline Staff working with abusers, are welcome to call us for information and support.
We can support and advise people from anywhere in the UK.
Yes. Any data taken is kept in line with our privacy policy that can be accessed here. In some circumstances, we may be required under law to share or disclose your information to external parties where there is concern over someone's safety.
Respect Phoneline does not provide information about anger management. The cause of domestic abuse is not anger. Anger management courses are not suitable help for those using domestic violence towards a partner. We provide information about domestic abuse intervention programmes, where these are available.
Respect Phoneline is funded by:
the Home Office
Ministry of Justice/MOPAC/London Community Foundation
Government of Scotland
Northern Ireland's Department of Justice
The service is run and managed by Respect, a registered charity, (number 1141636) and a company limited by guarantee (company number 7582438)
For more information about what to expect when you contact Respect Phoneline, click here.