Respect Phoneline is an anonymous and confidential helpline for men and women who are harming their partners and families. We provide specialist advice and guidance to help people change their behaviours and support for those working with domestic abuse perpetrators.
If you're working with a perpetrator of domestic abuse, call us free for confidential advice and information.
How we help
We'll provide you with advice and guidance on working with domestic abuse perpetrators safely. We'll explain why anger management courses, mediation and couples counselling are not safe interventions and signpost you to local domestic violence perpetrator programmes instead.
The Respect Phoneline helped me gain clarity on how to support my client, and provided me with a specialist organisation to refer my client onto to get the support he needs. I now feel confident with next steps with this client, and reassured about my counselling interventions with him so far. Thank you!
A counsellor's feedback on the Respect Phoneline.
Resources
Promotional materials
Respect Phoneline display poster
Respect Phoneline leaflet for perpetrators
Respect Phoneline leaflet for Frontline Workers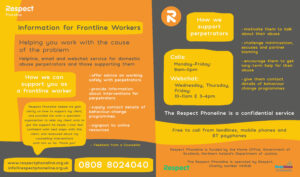 Materials for perpetrators
Take a Time-Out!
A guide to help perpetrators manage their behaviour instead of using violence and abuse.
Information and research
Working with the cause of the problem
Read about the social and economic benefits in working with domestic violence perpetrators, and the costs and risks if we don't.
How will you know that a service user is perpetrating domestic abuse?
Information for frontline workers who encounter domestic abuse in their work.
Engage
Roadmap for frontline professionals interacting with male perpetrators of domestic violence and abuse to ensure a coordinated multi-agency response.
Domestic Violence Perpetrator Programmes – Steps towards change
Do domestic violence perpetrator programmes (DVPPs) actually work in reducing men's violence and abuse and increasing the freedom of women and children?
This report by the Project Mirabal, written by Liz Kelly and Nicole Westmarland, offers evidence. Project Mirabal is a programme of research, combining a multi-site longitudinal study of the impacts of perpetrator programmes with two linked PhDs.
Expert advice on high-harm, high-risk perpetrator work
Are you a professional seeking support and guidance on working with high-harm, high-risk and complex-needs perpetrators of domestic abuse? A member of the Drive Project team is here to help. The Drive Expert Advisor is available to offer free support and guidance on the webchat every Monday, Wednesday and Thursday between the hours of 10am-12pm and 2-4pm for 6 months, starting on Thursday 28 May.
This service is available to all professionals – Social Workers, Probation Officers, Mental Health and Health Care professionals, Domestic Violence Advisors, Police Officers etc. To access the webchat click the 'launch webchat' icon below, during the opening hours. If you need this service outside of these times, please email info@driveproject.org.uk. A Drive Project team member will respond to you as soon as possible.